Source: Pinterest
Fashionistas, are you ready for spring 2019? Are you aware of what the catwalks showed on the runways for spring? Do you know what the cuts and colors for spring are? Most likely you are simply not ready for spring yet.
Let's take a look at the most wearable and the most worn collections. Looking at the fashions on the street as well as the runways will inspire you to transition into spring fashion. Get started now by using the street style of New York to plan your first spring outfit. Think about a plaid hint, slip dresses that are layered, and that fantastic whimsy look. Let's consider tips for transitioning our outfits for spring by taking a look at the trends shown during fashion week.
Wide-Leg Trousers and Oversized Blazers in Bold, Bright Colors and Gorgeous Pastels
The
tailoring for spring
is both oversized and loose. The bright and bold colors nicely bring out the light materials which add a relaxed and comfortable look of the outfits. For those of you who prefer a more subdued look, the pastels such as pale pink or mint might do the trick.
Animal Prints
Bold and wild prints are a popular street style this year.
Leopard print
is a favorite of this year's fashionistas. Leopard can be seen on pants, dresses, coats, suits and many other different garments. You can be one of the chic ladies by letting out your inner jungle cat and wearing striking and strong designs in bold colors.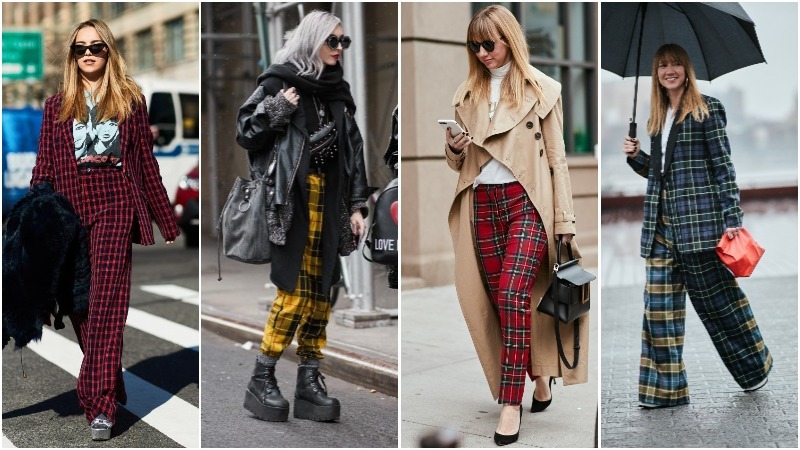 Source: The Trendspotter
Colored Tartan Plaids
It could be seen in New York, Paris, London, and Milan shows in eye-catching colors. Choose a tartan plaid in a bold color such as blue, red, yellow, or green. For a fantastic look try a jacket, pair of pants, or a suit in the classic tartan plaid.
Puffy Shoulders
If you want to look stylish and striking this spring, a dress or blouse featuring the popular oversized puff shoulders from the 80s might do the trick. Puff shoulders can add a modern twist to any spring outfit. For a powerful daytime outfit, puff shoulders can give you an up-to-date look you will adore.
According to
Marie Claire
, an "in" fashion style for spring this year is the little white dress featuring various fabrics such as sheer cotton or lace such as the example above. For the sheer cotton dresses, a
scoop neck feather bra
would add to your slim appearance. Also, notice the geometrically shaped purse which is another trend for accessories.
-
AK